Courageous people doing interesting things
Philip Morgan
This is how I feel when y'all share the interesting stuff you're up to to induce personal growth, take risks, or create value for your market: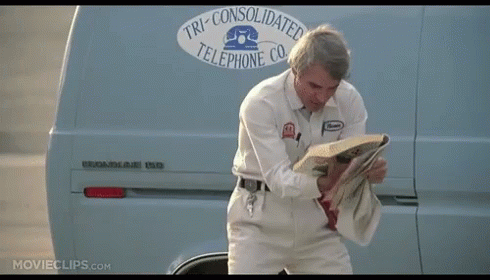 Thank you :) And as always, load 'em up right here: https://airtable.com/shrggV8bWtGa2JMxG
---
Paul Swail is starting to publish his notes on serverless: https://notes.serverlessfirst.com/ I chatted a bit with Paul about his thesis for value creation via these notes, and as I understand it, he's documenting the kind of stuff you want to figure out just once, but if you don't document it, you know you'll have to figure it out multiple times. Paul and I are both inspired and informed by Andy Matuschak's work, and I thank Paul for making me aware of Andy and also for being the first person I know who put their finger on this interesting whitespace between articles and private notes, where public notes seem to be a valuable, fluid entrant to fill that whitespace. This may also be interesting: a pretty well-maintained list of public Obsidian notes: https://forum.obsidian.md/t/the-all-obsidian-publish-s-collection-by-leo/7248. Thanks also to Paul for that.
---
David C. Baker is turning the crank on his webinar machine again. Last year, this machine turned out some really valuable free webinars, and the first one in this year's series is about lessons learned from 2020: https://www.davidcbaker.com/what-did-2020-teach-the-small-private-marketing-firm-world
---
Kyle Bowen is convening a community for his market: https://museumprogress.com I mention Kyle's work here from time to time because… well, I mention it today because he took the initiative to fill out the damn form, but I mentioned it generally because it's such a great example of leadership. The museum world faces a crisis that is larger than the foot traffic crisis induced by the coronavirus pandemic; it's a crisis of cultural relevance. Two years or so ago, Kyle showed up as a relative outsider to this world with his knapsack of research and design skills and a desire to serve. He befriended this market's uncertainty, rapidly cultivated access and insight, and worked hard to answer his market's uncertainty with something of value. His Museums-As-Progress (MAP) community is one of the ways he creates value that answers this market's uncertainty. Has MAP totally solved this market's crisis? No, of course not. That shit takes time. Which means that you still have time to watch and learn from what Kyle is doing: : https://museumprogress.com
---
This, from Anthony English, should teach us all a thing or two about patience: "After 7 years of being a ghost town, my YouTube channel suddenly blew up* in March 2020. "Blew up" means a handful of short and dry Zoom how-to videos got over 100,000 views each. Channel now has 2400 subscribers, and I'm treated by smaller YouTubers like a Hollywood celeb!" So. much. of. marketing. is like this. You do good, consistent, journeyman-level work for years, and then some little thing you toss off without much thought blows up, and you have some flavor of that "ten year overnight success" thing happening. I feel bad if it takes 5 or 10 years to happen, but it's also kind of a pox on our humility if it happens on day one. Anyway, here's Anthony's YT channel: https://www.youtube.com/channel/UCOVfp1Ic9dc0z6MigHjFClA
---
Mike Wolfe (Grandjean & Braverman, Inc.) has created a "daily blog targeting advanced Microsoft Access and VBA developers. Outside of developer forums, I had never publicly written anything before starting the blog. Since September 2020, I've personally written and published about 100K words (and counting)." Mike's blog: https://nolongerset.com Me:
---
Tom Chrichlow is doing a new thing: https://seomba.substack.com/p/welcome-to-the-seo-mba My copy/paste of what Tom's new thing is about:
I'm launching the SEO MBA - a free newsletter focused on the business & leadership skills necessary for SEOs to succeed at the executive level.
There's going to be very little technical SEO advice. Instead I'm going to focus on helping you become a more confident and effective executive-level professional.
In addition to the newsletter (which is free) I'm developing some online training programs to teach executive presence. Sign up for updates and more info.
Deets: https://seomba.substack.com/p/welcome-to-the-seo-mba I'm speculating here because I am not privy to Tom's thinking about this offering, but to me it smells of befriending his market's uncertainty. I could imagine Tom saying to himself, "you know, the technical SEO world is preeeetty commoditized – full of best practices and how-to info and so on – but I keep seeing SEOs having questions about how to work effectively with executives. I wonder if there's something more there…?"
---
To share your news, projects, and events, fill out this mercifully brief form and I'll share the relevant ones (anything creating value for the community of indie experts, personal growth for you, or risk-taking) back to this list: https://airtable.com/shrggV8bWtGa2JMxG Keep building; keep taking risks y'all, -P The Specialization Workshop begins Tuesday, February 9. It uses a courageous but simple approach to validating a specialization idea. There's still time to register and get up to speed before our first meeting on Tuesday: /workshops/specialization-workshop/