Pretty much every wise person who talks about consulting says you benefit from having a clear, strong point of view (POV). Pretty much none of them explain how you actually cultivate that POV.
The 1:1 POV intensive is 1 full day (or 2 half-days) together with me via Zoom where we explore, define, sharpen, and begin to articulate your point of view. It costs $5,600/person and there's a button below to inquire about it, or you can just email philip@philipmorganconsulting.com if you prefer.
More About POV
I thought there might be a systematic way to take the basket of opinions we all walk around with and refine them into one or more points of view. But I made no progress on this until a client of mine experimented with a clever way of mapping out his clients' POV, and then a few things clicked for me.
A POV is where you stand, what you see as a result of standing there, and -- as a result of all of that -- what you urge your market to change or do.
Point of view is both context and content. Here's my context: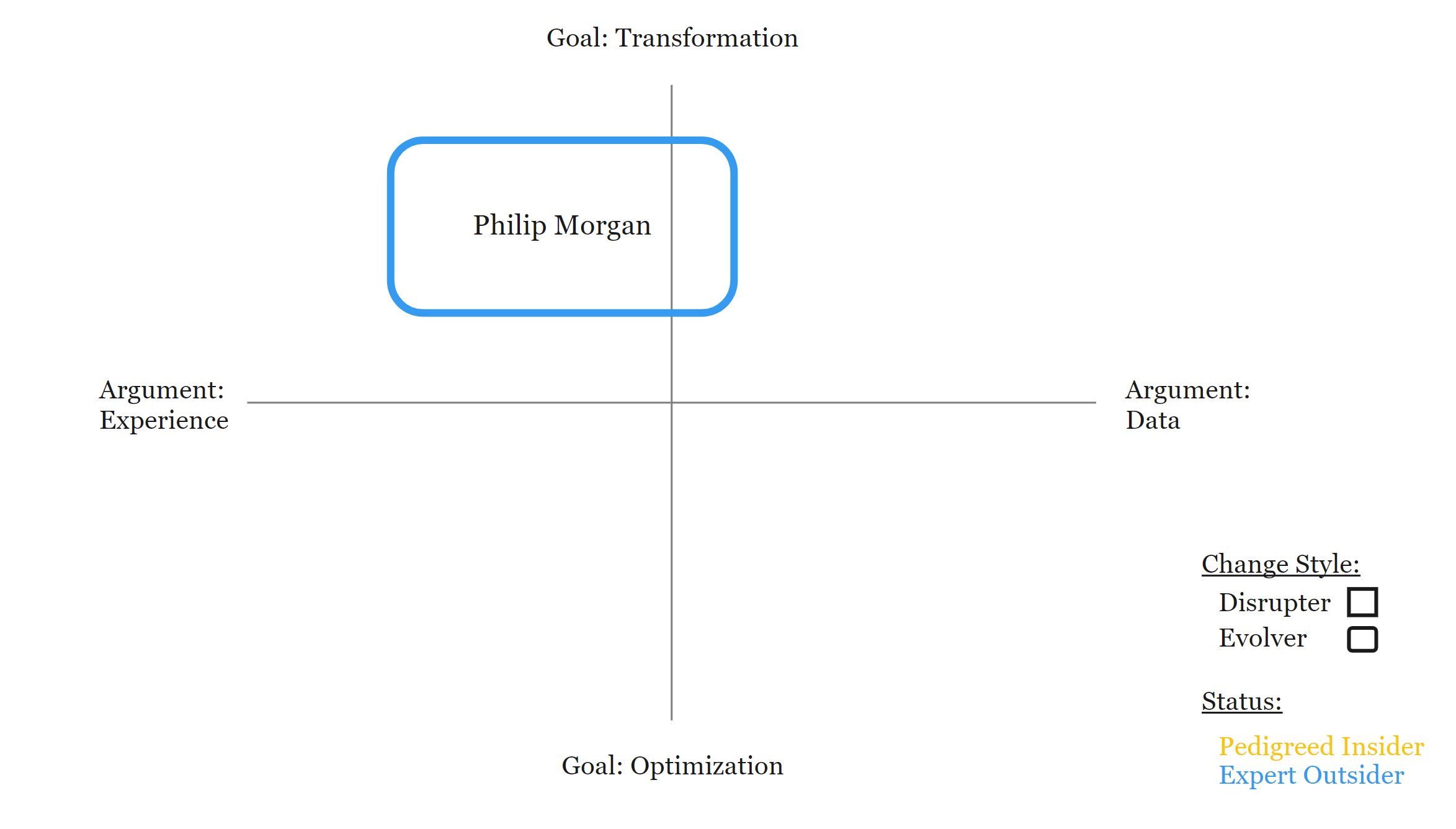 This is that clever mapping technique I mentioned before, adapted to the 4 axes along which an indie consultant can be distinctive in where they stand:
Goal
Argument
Change Style
Status
What you see is influenced by where you stand. And how you argue for change is very influenced by where you stand.
Once you've figured out where you stand, you can lean into the strengths of your point of view, and use those to define and sharpen the content of your point of view.
After you understand the context in which your POV is rooted and you have a clear and forceful way to articulate the content of your POV, then you can be more effective about articulating your POV into your market. The questions about how to articulate your POV will be more easily answered, and they naturally unfold into specific tactics (write this book, find places to deliver that talk, etc.).
My most effective group workshop thus far has been the 2-month Point of View Workshop. It's effective because it offers a systematic approach to identifying and refining your point of view.
I've re-packaged that system into a 1-day (or 2 half-days) experience for those who prefer a 1:1 setting or a shorter timeframe from start to finish. This re-packaging created an opportunity for me to offer more hands-on ideation and writing support in the process. I guarantee you'll walk away from this 1:1 intensive with a 1-page overview of your point of view (co-written by you and I, credited only to you of course) and a high-level plan for activating or articulating your now-clarified POV through content marketing, thought leadership, or other touchpoints with the market.
1:1 Intensive Details
Scheduling: 1 full day or 2 half-days. For the full day option, we'll build in breaks, etc, so Zoom doesn't fry our brains. :)
Preparation: You'll need to spend an hour or two absorbing some concepts before we meet. This helps us get the most value possible out of our time together.
Deliverables:

We'll spend a full day (two 3h sessions) or two half-days working together via Zoom.
The aforementioned instructional video content; unlimited access/download it if you want.
A Miro environment populated with the very simple tools we'll use for our session.
My combined teaching, coaching, and consulting presence for the session. You'll learn about, discover new clarity on, and get my expert input on your point of view.
My co-writing and consultative input on a 1-page overview of your point of view.
My consultative input on a high-level plan for activating or articulating your now-clarified POV.

Price:

Solo consultant: $5,600
Consulting team: $5,600 per billing consultant, capped at 4 x $5,600 = $22,400
If you'd like to set up a 1:1 POV Intensive, or just have a few questions, please use the button below to inquire:
Inquire About 1:1 POV Intensive